Come and Celebrate Palm Sunday With Us
Welcome! We would love for you to join us this Sunday morning at Prayer of Faith as we prepare for Holy Week with Palm Sunday. All are welcome to come worship and hear the Gospel preached.
Some people dress up, others wear jeans. We want you to feel relaxed, so come as you are, however you are most comfortable.
Our services are a flow of worship that includes singing, prayer, the teaching of Scripture, the sacrament of communion on the first Sunday of each month, and visiting together.

---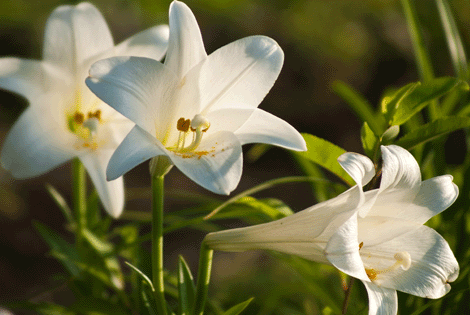 Easter Sunday
Easter Worship Service begins at 10:30 am, Sunday, April 4th. After services join us for a wonderful banquet of food for all to enjoy.
If you would like to purchase an Easter Lilly in memoriam of a loved one or to honor someone you cherish, please e-mail us to purchase them for $10 each and we will reserve one for you.
We will line them up along the stage area beginning on Palm Sunday in preparation for our Easter services.
If you're a church family member of Prayer of Faith, we ask that you please bring enough food for your family and a guest. After lunch, there will be an egg hunt for the children - weather permitting.
---
---

Sunday Ministry Opportunities:


---

9:00 am
Prayer Meeting in Pastor's Study
9:00 am
Instrument and Praise Singers Practice
9:30 am

Adult Bible Study

10:30 am

Sunday Worship and Praise Service

11:00 am



Sunday Worship Message
with Adam Dilley, Senior Pastor and
Eric Ferguson, Executive Pastor
11:00 am

Junior Children's Church (ages 4 years thru 2nd grade)

11:00 am

Children's Church (ages 3rd grade thru 6th grade)


---

Wednesday Night Ministry Opportunities:


---

5:30 pm

Dinner in Fellowship Hall

6:00 pm

Ground Zero (teens ages 13-19)

6:00 pm

King's Kids (ages 3 years - 6th grade)

6:15 pm

Praise Reports and Prayer Requests

7:00 pm

Adult Bible Study in Fellowship Hall


---

Prayer of Faith | 5801 South Anderson Road | Oklahoma City, Oklahoma 73150 | (405) 739-0458